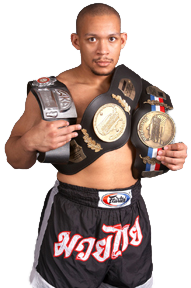 David Carter has trained in various martial arts for over 10 years ranging from Muay Thai, Brazilian Jiu-Jitsu, Savate Thai X-Training, Combat Submission Wrestling, Freestyle Wrestling, Jeet Kune Do Concepts, Filipino Martial Arts, Shooto, and Jun Fan Gung Fu among others, styles proven affective over the years on the street, and in such events as the Ultimate Fighting Championship, and it's Japanese counterpart Pride FC. A competitor and champion in several Kickboxing, Submission Grappling, and Mixed Martial Arts events, Dave has also battle tested all of his techniques in the REAL WORLD as a security specialist and consultant since 1997 when he started handling security for parties in college and was later asked to work all over DC and VA in clubs and bars for his Security, Personal Protection, and Resolution skills. With all of this he possesses a unique understanding of what works in the ring and what works on the street.
As well as being a martial artist David has discovered what does and doesn't work inside the gym. How to manage weight for competitions and for life, and get the utmost out of his training, and he brings that to his clients in a simple no nonsense manner that cuts to the root of the peoples problems and corrects them.
His students are from all walks of life from teenagers, college students, stay at home moms, software engineers, law enforcement, all branches of the military, the disabled and Senior citizens.